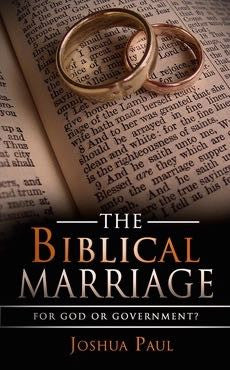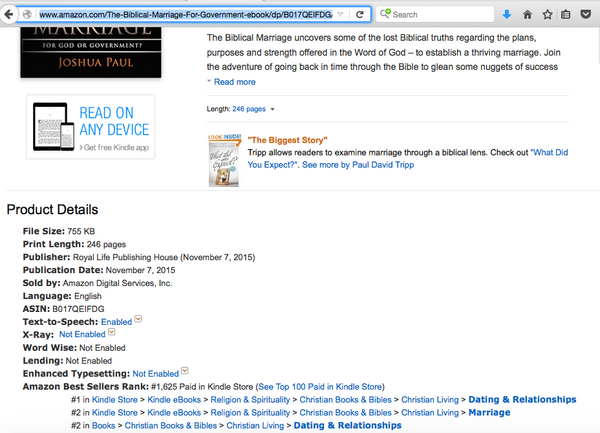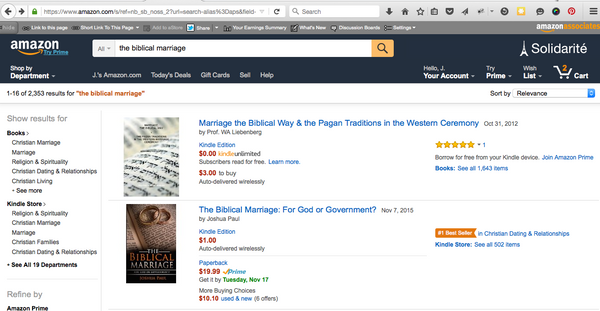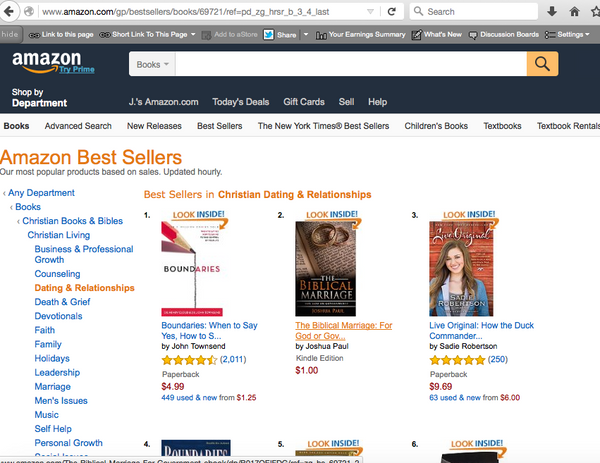 The Biblical Marriage: For God or Government?
Regular price
$ 24.99
Sale price
$ 19.99
---
#1 Best Seller on Amazon!
(Which means, you need to be in the top 100 of ALL books sold on Amazon in the USA in a given day.)
What will it take to make your relationship thrive?
The Biblical Marriage uncovers some of the lost Biblical truths regarding the plans, purposes and strength offered in the Word of God – to establish a thriving marriage. Join the adventure of going back in time through the Bible to glean some nuggets of success as to why families worked seemingly better than they do today. There is a reformation-taking place in this very hour. Hollywood's Christianity and Jesus' Christianity are colliding. Followers of Jesus are beginning to see the difference, standing for what's written in the Bible and not what's depicted in the movie theaters.  Discover ancient truths surrounding God and marriage, forgotten in today's post-modern society. 
The purpose of, "The Biblical Marriage" is to help Christians and Non-Christians better understand the purposes, design and scope of marriage. The Word of God says, "My people are destroyed for lack of knowledge." Look around the nation; the people and families of the United States are being destroyed. The information in this book will only serve to strengthen marriages and families, no matter what you believe right now.
If you are single, in a relationship, engaged or even married – become informed regarding the different options couples have regarding the formalities and legalities of marriage. The Biblical Marriage reveals legal and relational puzzle pieces as to the problems we are currently challenged with pertaining to the topic of marriage. Increase your understanding of the courtship process, wedding ceremony and covenant of marriage, lacking in the earth right now. Buy this book for yourself and a friend. If you haven't questioned societies current views on marriage, "The Biblical Marriage" will deeply impact your current perspective regarding marriage, taking you from man's perspective, to God's.  In a time when lines are being grayed, God's Word, is unchanging.  The Biblical Marriage gives biblical and legal perspective as to the controversy surrounding the definition of marriage. 
Will you give your marriage to God or the Government? Prepare for a total paradigm shift, start the adventure today…

(This book has an additional 7 chapters, not included in Marriage License Fraud.  The Library of Congress requires new ISBN numbers for books with additional content added, thus the two different books.)
---